Residential and commercial HVAC Services
Bucks County & Montgomery County
If you need any HVAC services in Bucks County & Montgomery Count then HTR Mechanical is here to help! You can reach us by email, phone or by our contact form below.
We do emergency HVAC services, regular maintenance, repairs and installations. From air conditioners to heaters, mini ductless splits, air scrubbers and more – our team of professionals are ready to get the job done right!
Looking for an easy plan that gives the TLC your HVAC needs? We have maintenance plans that takes care of everything! Need help with affording a repair? We also have financing options to help you get the service you need!
Want to see more HVAC Services for Bucks County?
 Want to see examples of our work? Desire to stay up-to-date with HVAC services in Bucks County? Feel free to follow us on social media to get the latest updates, special offers and expert advice. We also post articles with tips, advice and insider looks about HVAC systems. Click the links below to give them a read! New articles are added often so there will always be new things to learn. We look forward to seeing you on the web! 
Our Articles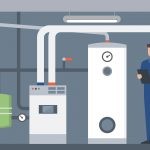 Everything you Need to Know About Boilers & Furnace Repairs As winter approaches it is important to make sure your…